ec2machine.com - engineering, optimization, manufacturing
Get it made right!

<!br>


Quality





Mission Statement
<![if !supportLineBreakNewLine]>
<![endif]>

EC2, Inc. is a manufacturing and development company committed to excellence in processes and deliverables. EC2 offers a sophisticated level of planning and development activites and a range of manufacturing processes applicable to a broad range of requirements.

A commitment to continuous improvement forms the basis for all activities at EC2, Inc. It is our belief that the incorporation of quality planning, quality control, and quality improvement into our processes allows us to deliver products and services in a more timely fashion and at lower cost to our customers than would otherwise be possible.

In addition, EC2, Inc. is dedicated to continued education and research of theories and best practices in the manufacturing arena. Manufacturing and development are fields that advance at a breakneck pace in the modern world, and to be complacent in our accomplishments today is to be left behind tomorrow. To that end, it is our policy to stay on top of advances in tools, practices, mathematical and engineering concepts, statistical methods, and other technical fields that are relevant to our industry.

In pursuit of its mission, EC2, Inc. continually evaluates its methods, systems, and processes and alters them when change will enhance quality and effectiveness.

What is Quality?

Though not often publicized, many disagree regarding what quality really means.

You may hear a follower of Juran, for example, demand that all production aim to hit the center of tolerance range. But another person may point out that such an interpretation removes the usefulness of different dimensioning schemes. For example, where a shaft is dimensioned .998" plus zero, minus .005" and the mating bushing is dimensioned 1.000" minus zero plus .005", production would strive for a shaft diameter of .9955" and a hole diameter of 1.0025". This would result in a much sloppier fit than what the designer intended, which is an optimal .002" running fit.

For consistency and the promise of a usable product when operators have little skill, the first interpretation does work. In fact, it was this very concept that helped the Japanese manufacturing industry rise from last place to become a global leader.

It could be argued that there exist various levels of quality.

In our opinion, quality is product specific and can be personal as well. One customer may most value beautiful finishes where another would find material selection for lack of wear to be what defines quality. Another may just demand it meets a milspec, a fourth stress that the quality procedures must be strict.

In the final analysis, quality can be defined as meeting or exceeding customer expectations. It is therefore important that those expectations are explored up front.

In addition to obvious considerations such as meeting specs and delivering on time, other often neglected parameters, such as designs that can be easily manufactured/assembled and manufactured products that can be easily inspected, also come into play.

An important part of the quality process is working with our customers to determine what is important to them.

Quality is a way of thinking. We understand that inspection equipment and control charts, though important tools, do not ensure quality. Only a quality-based organizational culture ensures quality.




<![if !vml]>

<![endif]>
Process Analysis
Process Analysis Cause and Effect diagrams can be useful in spotting and preventing part defects due to the manufacturing process.


<![if !supportLineBreakNewLine]>
<![endif]>
<![if !vml]>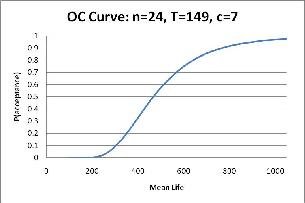 <![endif]>
Reliability Analysis
Operating Characteristics Curves can be powerful quality tools when it comes to failure and reliability analysis of components and assemblies.




Who We Are

Len Friedland, President

Len became a journeyman tool and die maker in 1979. Since then he has been recognized as an authority in the area of CAD/CAM, has written for technical publications such as Cutting Tool Engineering, and has been actively involved in automating factories and implementing ERP, PDM, and Requirements systems.

Len holds a Masters of Science in Systems Science from Binghamton University's Watson School of Engineering and Applied Science and is a member of multiple engineering honor societies.